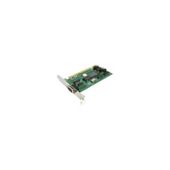 ISA-based RS232 Serial Card (16550 UART) can be installed in an ISA motherboard slot to add an RS232 serial COM port, with support for data transfer rates of up to 460.8Kbps for peak serial device performance.he ISA Serial Adapter Card includes drivers for Windows 3.1, 95, 98, NT4 and NT5, and offers a full built-in jumper set to ensure easy configuration and broad compatibility.
Price: £10 from Tesco Direct
---
Similar products (may cost more than a tenner!)


StarTech I/O card 1 Port 16550 ISA Serial  Card Model ISA1S550
£21.00
See more from eBay…
---
The item you wanted doesn't seem to be available. Have a look at the alternatives below, or try using the search box.



StarTech.com:
StarTech 2 Port 16550 Isa Serial Card – Uk



StarTech.com 2 Port ISA RS232 Serial Adapter Card with 16550 UART



StarTech.com:
Startech 1 Port 16550 Serial PCI Card
| | | |
| --- | --- | --- |
| StarTech.com 2 Port 16550 Serial PCI Card | StarTech.com 2 Port 16550 Serial PCI Card | StarTech.com 1 Port PCI RS232 Serial Adapter Card with 16550 UART – PCI Serial Adapter – PCI rs232 – PCI Serial Card |



StarTech.com:
StarTech.com 1 Port Low Profile Native RS232 PCI Express Serial Card with 16550 UART



StarTech.com 1 Port Low Profile Native RS232 PCI Express Serial Card with 16550 UART



2 Port PCIe Serial Adapter Card w/ 16550



2 Port PCIe Serial Adapter Card w/ 16550



Startech:
StarTech.com 2 Port PCI Low Profile RS232 Serial Adapter Card with 16550 UART – Low Profile 2 Port 16550 Serial PCI Card



Startech:
StarTech.com 2 Port PCI RS232 Serial Adapter Card with 16550 UART – 2 x 9-pin DB-9 Male 16C550 Serial



Startech:
StarTech.com 4 Port PCI RS232 Serial Adapter Card with 16550 UART – 4 x 9-pin DB-9 Male RS-232 Serial PCI



StarTech.com:
StarTech.com 2 Port PCI Low Profile RS232 Serial Adapter Card with 16550 UART



StarTech.com:
StarTech.com 4 Port Native PCI Express RS232 Serial Adapter Card with 16550 UART