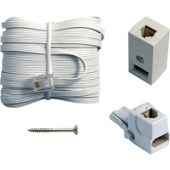 A range of ultra thin, flat cable telephone extension kits for use in under carpets, behind wallpaper, etc. The kit is completely modular, no tools are required for installation. The cable is terminated at both ends with RJ11 plugs & is supplied with an RJ11 to BT adaptor & a slim-line BT socket terminal. Available in 10m & 15m lengths.
Price: £9.99 from Tesco Direct
---
Similar products (may cost more than a tenner!)


10m COMPACT TELEPHONE CABLE RJ11 PLUG BT EXTENSION KIT
£10.99
See more from eBay…
---
The item you wanted doesn't seem to be available. Have a look at the alternatives below, or try using the search box.



Novatech:
BT – RJ11 Crossover Cable 10m White



BT:
RJ11 Plug To BT Socket



Cabledepot:
Crossover Modem Cable RJ11 BT Plug Crossover 170cm



10m Telephone Extension Cable



TVCables:
BT Extension Cable 10m



Logik:
LOGIK LMEX515 RJ11 to BT Socket Cable – 5 m



Logik:
LOGIK LMEX1015 RJ11 to BT Socket Cable – 10 m



Logik:
LOGIK LMEX1515 RJ11 to BT Socket Cable – 15 m



Cabledepot:
2 Wire Modem Cable 2 wire modem cable RJ11 BT plug 1.7mtr



TVCables:
20m RJ11 ADSL Modem Cable



Cabledepot:
BT to RJ11 Modem Cable 20m



GN Netcom:
Amplified Cord With RJ11 Plug



StarTech.com 25 ft. RJ11 Telephone/Modem Cable



StarTech.com 25 ft. RJ11 Telephone/Modem Cable



Plantronics:
E10 S1 Bottom Cable (RJ11 Plug)