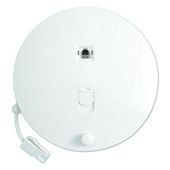 A 10m RJ11 to RJ11 flat cable on reel, suitable for use as a telephone or modem extension cable. It is supplied with a RJ11 to UK telephone adaptor to plug into a UK socket.
Price: £9.99 from Tesco Direct
---
Similar products (may cost more than a tenner!)


BT RJ11 ADSL Telephone Modem 10m Extension Reel Lead Cable – Only ONE left
£2.99

10M, BT PLUG TO SOCKET+ RJ11 TELEPHONE MODEM LEAD,EXTENSION REEL,SURGE PROTECTED
£6.99

BT TELEPHONE & MODEM EXTENSION CABLE LEAD REEL 10m
£4.99

BT RJ11 TELEPHONE MODEM EXTENSION CABLE LEAD REEL 10m
£10.99
See more from eBay…
---
The item you wanted doesn't seem to be available. Have a look at the alternatives below, or try using the search box.



Telephone Modem Double Adaptor



Masterplug:
Masterplug – 4 Socket Cable Reel – 10m



Faithfull:
Faithfull 4 Socket Cable Extension Reel 10m



Draper:
Draper Cassette Cable Extension Reel 10m



Draper:
Draper 26338 10m Twin Extension Cable Reel



StarTech.com 25 ft. RJ11 Telephone/Modem Cable



StarTech.com 25 ft. RJ11 Telephone/Modem Cable



StarTech.com 25 ft RJ11 Telephone Modem Cable



Faithfull:
Faithfull 4 Socket Fast Rewind Cable Extension Reel 10m



Draper 26338 10m 230v Twin Extension Cable Reel



StarTech.com:
StarTech.com 25 ft RJ11 Telephone Modem Cable 7.6 m



Hozelock 10m Pico Reel



TVCables:
BT Extension Cable 10m



Novatech:
SVGA Extension Cable – 10m



Coopers of Stortford:
10M RCD Extension Cable