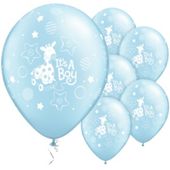 11` Its A Boy Soft Giraffe Suitable for air or helium inflation, please see our range of disposable canisters.Colour: Pearl Light Blue.
Price: £9.99 from Tesco Direct
---
Similar products (may cost more than a tenner!)

See more from eBay…
---
The item you wanted doesn't seem to be available. Have a look at the alternatives below, or try using the search box.



Send a Balloon 18" It`s a Boy Soft Giraffe



Simple:
Simple Cleansing Wipes 25pk



tantruth appointment cards 25pk



Qualatex 11 Inch Latex Balloon – Boy Soft Giraffe



Johnsons:
Johnsons Face Care Wipes 25pk



Wilko:
Wilko Bulbs Mixed Tulips 25pk



Wilko:
Wilko Bulbs Mixed Hyacinth 25pk



25pk Ivory Dots Invitation Pack



Wago:
WAGO 209-148 25mm Multi Mounting Adaptor 25pk



Johnsons:
Johnsons 3in1 Normal Refresh Wipes 25pk



Johnsons:
Johnsons Daily Essential Moisturisng Wipes 25pk



Freedom:
Freederm Deep Pore Cleansing Wipes 25pk



Jabra:
Jabra p10 headset conv. adaptor 25pk



Fellowes:
Fellowes Slimline CD/DVD Jewel Case – 25pk



Fellowes:
Fellowes Laminating Pouches A3 125 micron 25PK