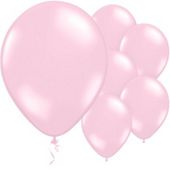 11` Pretty Pink Suitable for air or helium inflation, please see our range of disposable canisters.
Price: £10 from Tesco Direct
---
Similar products (may cost more than a tenner!)

See more from eBay…
---
The item you wanted doesn't seem to be available. Have a look at the alternatives below, or try using the search box.



29cm 50pk Pink Helium Balloons



32cm 50pk Pink Link Round Balloons



Wilko:
Wilko Terminals 50pk



Wilko:
Assorted Shape Balloons 50pk



Dylon:
Dylon Colour Catchers 50pk



CIPI Europe:
50PK CONVENTION BADGE HOLDER – .



50pk Wedding Imprintable Invitations



Wilko:
Wilko Antique Upholstery Nail 50pk



Wilko:
Wilko Fibre Tip Pens 50pk



Wilko:
Wilko Sugar Soap Wipes 50pk



50pk Pastel Coloured Balloon Weights



29cm 50pk White Helium Balloons
| | | |
| --- | --- | --- |
| 29cm 50pk Turquoise Helium Balloons | 29cm 50pk Ivory Helium Balloons | 28cm 50pk Burgundy Metallic Balloons |