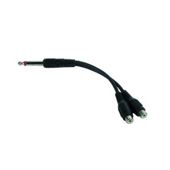 A 6.35mm (1/4) mono jack plug to two-phono sockets connector.
Price: £9.99 from Tesco Direct
---
Similar products (may cost more than a tenner!)

See more from eBay…
---
The item you wanted doesn't seem to be available. Have a look at the alternatives below, or try using the search box.



TVCables:
3.5mm Mono Jack Plug to Phono RCA Socket Adapter



2 RCA Phono Sockets to Jack Plug Adaptor



Livewire:
Livewire BSGP310LU15 2x 6.35mm Mono Jack Plugs to 2x Phono Plugs B…



RVFM:
RVFM 190.069UK 2x Rca Male Phono Plugs to 2x 6.35mm Mono Jack Plugs 6m



2 Mono Jack to Mono Jack Adaptor



TVCables:
5m Stereo Audio 2 x Phono to 3.5mm Jack Plug



Mono Jack Socket to Mono Mini Jack Adaptor



Livewire:
Livewire BROAD560LU6BK Mono Jack Plug to 4 Pole Speaker Connector …



6.3mm Mono Jack Male to RCA/Phono Female Audio Adapter



Lindy 6.3mm Mono Jack to RCA/ Phono Female Adapter



Techlink:
Techlink 3.5mm To 2 RCA Phono Plugs.



Gear4Music:
1/4″ Mono Jack to 1/4″ Mono Jack Patch Connector



Mono Jack Socket to Mini Stereo Jack Adaptor



TVCables:
Philips 3m Stereo Audio 2 x Phono to 3.5mm Jack Plug



Gear4Music:
Jack – Phono Cable Dual Mono 1m