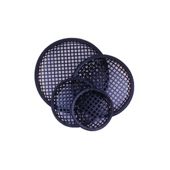 A range of protective, circular metal grilles. The grilles are finished in matt black and have a PVC covering strip around the edge. Fitting is by loudspeaker fixing clamps, (e.g. FJ40T). Available in the following sizes: 127, 203, 254, 305, 381 and 457mm (5, 8, 10, 12, 15 and 18in.) diameter.
Price: £9.99 from Tesco Direct
---
Similar products (may cost more than a tenner!)

See more from eBay…
---
The item you wanted doesn't seem to be available. Have a look at the alternatives below, or try using the search box.



JBL:
JBL PRX425 Dual 15in PA Speaker



Dicota:
Softskin 15in Grey – .



Bahco:
331-15-23 Bowsaw 380mm (15in)



BlueSpot Tools:
Adjustable Wrench 380mm (15in)



Plantpak:
Heated Propagator Kit 15in



Roughneck:
Utility Bar 375mm (15in)



Vaughan:
B215 SuperBar 380mm (15in)



Dicota:
Code Sleeve 15in – Black/grey



Dicota:
Code Messenger 15in – 2-tone Grey



Contico:
Contico 15in Black Floor Pads



Fellowes:
Fellowes Privascreen Privacy Filter 15in



Estwing:
EHB/15 Handy Bar 375mm (15in)



Faithfull:
Plastic Organiser 12 Tray 15in



Hultafors:
108/15 Wrecking Bar 380mm (15in)



Stanley Tools:
Universal Hardpoint Handsaw 380mm 15in